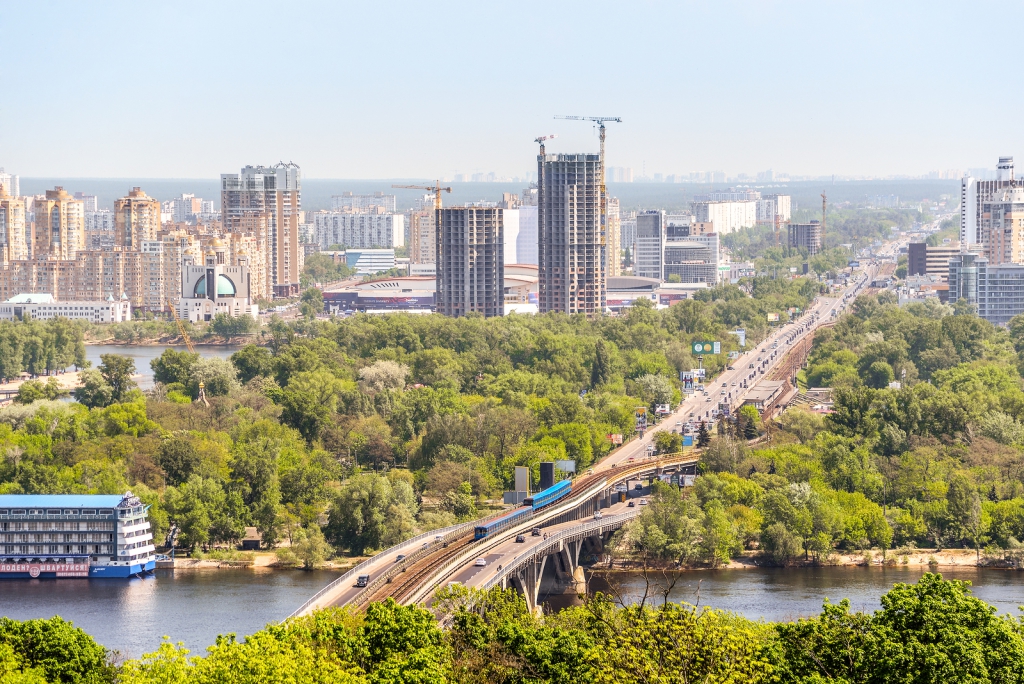 Ukrainian President's "Big Construction" project runs into problems
[ad_1]
Ukrainian President Volodymyr Zelensky's so-called Big Construction program is a much needed overhaul of Ukraine's aging infrastructure. However, in the midst of the Covid-19 pandemic and in the face of allegations of corruption, the initiative has sparked controversy.
Anyone who has driven on Ukrainian highways knows the state of the country's roads.
Many highways are narrow, one-car roads, riddled with potholes and populated by reckless drivers.
The roads are poorly maintained, with contractors allegedly defrauding the government and pocketing substantial sums.
---
---
The alternatives are no better: some passenger trains are half a century old and announce their presence by spitting out clearly foul-smelling smoke.
With the exception of Kiev Borispil, most of the airports are incredibly small and cramped. Stadiums across the country are in a dilapidated state as even in the capital, elegant historic buildings are rotting from the outside due to a complete lack of maintenance. The monuments of historical figures are regularly vandalized with vulgar graffiti, or, in some cases, disfigured if they attract the sorrow of the nationalists.
To remedy this situation, shortly after his election in 2019, Ukrainian President Volodymyr Zelensky announced the launch of what he dubbed the "Big Construction" project. He pledged to build or repair 6,500 kilometers of roads, 100 schools, 100 kindergartens, 100 stadiums and 210 hospital emergency rooms in the first year of the project.
This year, as a subsidiary of the Big Construction Project, Zelensky also announced the Big Restoration Project, aimed at reviving and renovating historic buildings and monuments. In December, the European Bank for Reconstruction and Development (EBRD) agreed to provide a loan of 450 million euros to help with construction. More recently, on June 30, Ukraine signed an agreement with China giving it access to low-interest loans for infrastructure development.
Most of Ukraine's infrastructure was built in Soviet times and its condition reflects this. There was hardly a problem with traffic congestion in the Soviet Union, so the roads were narrow. Many were built by German prisoners of war after World War II.
Neither was there a high volume of air travel in Soviet times, whether domestic or international.
Since independence, however, this infrastructure has been almost entirely neglected. Other than a four-lane motorway and a high-speed railway line built to host the European Football Championships in 2012, large-scale infrastructure projects have been rare.
In rural areas in particular, the situation is dire, with some villages not even having paved roads. Such a situation hinders economic growth and exacerbates the substantial gap between rural and urban areas in Ukraine.
As such, Zelensky's Big Construction project was long overdue and very much needed. However, it encountered controversy around transparency and the allocation of funds.
The first phase of the Big Construction project took place last year, at the start of the Covid-19 pandemic. Parliament has raised a special fund to fight Covid and its economic legacy – however, around half of that fund has been allocated to building roads. According to the Center of Public Finance of the Kyiv School of Economics, Ukraine spent some US $ 4.4 billion on road construction in 2020, almost 10% of the state's annual budget. country.
Many Ukrainians have criticized the government for using funds dedicated to the fight against Covid for road construction, as small businesses go bankrupt by the hundreds. However, representatives of Zelensky's Servant People's Party argued that the construction projects were necessary to revive the economy – Zelensky recently claimed that Big Construction had saved 190,000 jobs over the past year.
Lack of transparency
A second source of controversy is the lack of transparency in some calls for tenders for the project. Part of the initiative plans to create a ring road around Kiev, at a cost of US $ 3.5 billion, to reduce the number of cars passing through the city and alleviate its serious congestion problem.
This project will be completed without public scrutiny, after the adoption of a law exempting it from going through ProZorro, a platform designed to bring transparency to the procurement process. This would give the Ukrainian national road agency Ukravtodor full discretion to choose a company to build the ring road, when it would otherwise have been forced to select the cheapest bidder.
This has raised fears that a small "cartel" of construction companies – including the Turkish group Onur – would monopolize construction projects and have the freedom to milk the Big Construction cash cow.
Additionally, Ukravtodor has a reputation for corruption: in 2019 the agency's Polish CEO, Slawomir Nowak, was dismissed from his post and charged with corruption in Ukraine and his home country.
Although a revitalization of Ukraine's infrastructure has been badly needed for decades, it is unfortunate that the largest infrastructure project in modern Ukrainian history suffers the same fate that has hampered the economic progress of Ukraine. Ukraine for decades.
The fact that the tender for the Kiev ring road is being held behind closed doors is undoubtedly worrying, especially for those who believed that Zelensky's election would represent a long-awaited departure from the pervasive corruption in the country.
While the promised roads can still be built, it seems likely that it would be at hugely inflated prices, delaying the economic stimulus that the Big Construction project would otherwise provide.
---
Unlike many news and information platforms, Emerging europe is free to read, and always will be. There is no paywall here. We are independent, we are not affiliated with or represent any political party or business organization. We want the best for emerging Europe, no more and no less. Your support will help us continue to spread awareness of this incredible region.
You can contribute here. Thank you.

[ad_2]