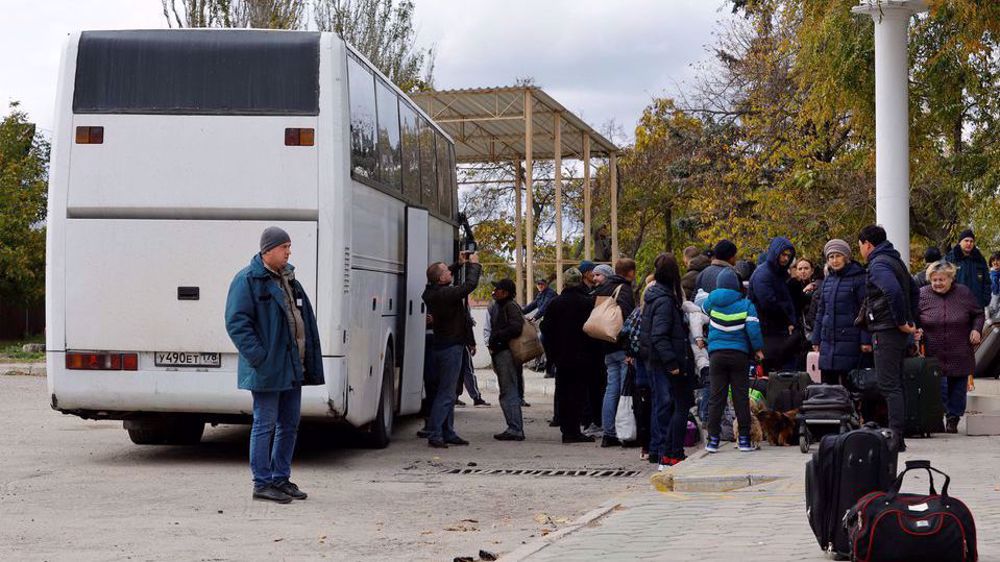 Russian forces repel Ukrainian offensive in Kherson
Russia says its troops repelled an attack by Ukraine in the southern Kherson region, where Ukrainian forces have advanced in recent weeks.
In a statement on Saturday, the Russian Defense Ministry said "all attacks have been repelled and the enemy has been pushed back to their initial positions."
The ministry went on to say that Ukrainian forces continued their offensive towards the regions of Piatykhatky, Suhanove, Sablukivka and Bezvodne on the west bank of the Dnieper. Russian forces have also repelled attacks in the Luhansk and Donetsk regions of eastern Ukraine, he added.
On Thursday, Kherson-based Russian officials said Ukrainian military forces shelled the Antonivskiy Bridge over the Dnieper, which was used to evacuate people.
The city of Kherson was the first key urban center to be captured by Russian troops after Moscow launched the military operation in Ukraine on February 24.
On Friday, Ukraine's presidential office said 88 districts in southern Kherson had been liberated. Last week kyiv announced that 75 towns and villages in the region had been liberated.
Russian officials previously said they would turn Kherson into a "fortress" by building city defenses.
Russia has asked civilians to evacuate the town in preparation for a wider Ukrainian counteroffensive.
Power cuts after shelling of Ukrainian infrastructure
Meanwhile, Ukraine says more than a dozen Russian missiles pounded critical infrastructure across the country, causing large-scale power outages.
The Ukrainian Air Force reported that 33 missiles were fired at Ukraine on Saturday morning, adding that 18 of them were shot down.
Local officials in several regions of Ukraine also reported strikes against energy facilities and power outages, as engineers rushed to restore the crumbling network.
Kyrylo Tymoshenko, deputy to the presidential office, said as of Saturday afternoon more than a million people across Ukraine were without power, including 672,000 in the western Khmelnytskyi region alone.
Public transport network operator Ukrenergo wrote on the Telegram messaging app that the attacks targeted transmission infrastructure in western Ukraine, but power supply restrictions were put in place in ten regions. of the country, including in the capital kyiv.
Petro Panteleev, deputy head of Kyiv city administration, also warned that Russian strikes could leave the Ukrainian capital without electricity or heating for "several days or weeks".
Russia launched 36 rockets in 'massive attack' on Ukraine
Separately on Saturday, Ukrainian President Volodymyr Zelensky said Russia carried out a "massive attack" on Ukraine overnight.
The Ukrainian leader made the comments on social media, after several regions reported energy infrastructure strikes that led to power outages across the country.
"The aggressor continues to terrorize our country. At night, the enemy launched a massive attack: 36 rockets, most of which were shot down… These are despicable strikes on critical objects. Typical terrorist tactics," Zelensky said.
On October 18, Zelensky said Russian airstrikes destroyed 30% of his country's energy infrastructure last week, warning that the airstrikes had left no room for negotiations with the government of Russian President Vladimir Putin.
Russia launched its "special military operation" in Ukraine on February 24, with the stated aim of "denazifying" the country.
Since the start of the war, the United States and its European allies have imposed waves of economic sanctions against Moscow while providing large shipments of heavy weapons to kyiv despite Russian objections. Moscow has criticized arms deliveries to kyiv, warning that it will prolong the conflict.