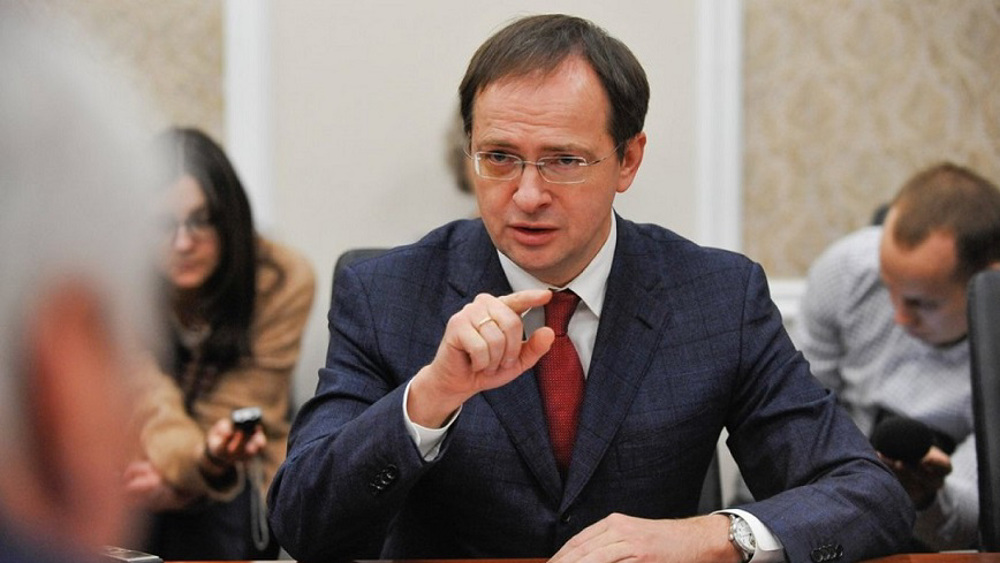 Peace talks with Ukraine are not advanced enough to hold a meeting at the highest level
Russia's chief negotiator said peace talks with Ukraine had not progressed far enough to make way for a summit between the Russian and Ukrainian presidents.
Vladimir Medinsky said on Sunday that "the Ukrainian side has become more realistic in its approach to issues related to Ukraine's neutral and non-nuclear status, but the draft agreement is not ready for submission to a summit meeting. ".
He said he did not share the "optimism" of Ukrainian negotiators about the possibility of talks between Russian President Vladimir Putin and his Ukrainian counterpart, Volodymyr Zelensky. "I repeat again and again: Russia's position on Crimea and Donbass remains unchanged."
Putin announced a "special military operation" on February 24 to demilitarize Donetsk and Luhansk, largely populated by ethnic Russians, in eastern Ukraine. The United States and its European allies called the military operation a "land grab by Putin", imposing unprecedented sanctions on Moscow.
In 2014, the two Ukrainian regions of Donetsk and Luhansk – known collectively as Donbass – declared themselves new republics; a decision that sparked a persistent and bloody conflict between kyiv and armed separatists. Earlier that year – on March 17 – Crimea declared independence from Ukraine and formally applied to join Russia following a referendum held the day before.
Moscow defends Crimea's reunification with Russia as legitimate, saying more than 90% of the Black Sea peninsula's residents voted in favor of the country's reunification in the 2014 vote. The West, however, characterizes the reunification as the annexation of Ukrainian land by Russia, which strongly rejects the allegation.
On Saturday, Ukraine's chief negotiator David Arakhamia said the Kremlin had "verbally" agreed to key Ukrainian proposals, raising hopes talks to end the fighting were progressing. He also raised the possibility of a summit in Turkey, without saying when that might be possible.
kyiv has so far offered in the talks to drop its ambition to join NATO if it has security guarantees from Western countries. Ukraine would also undertake not to host foreign bases. Previously, Moscow had repeatedly called on Ukraine not to join the US-led military alliance.
Kyiv also offered to temporarily set aside the issue of Crimea and the Donbass region, on which Russia's position "remains unchanged", according to Medinsky, who added that the talks would resume via videoconference on Monday.
Moscow: Russia will ask for ruble payments for other goods
The Kremlin said Sunday that Russia would seek ruble payments for other exports. He said Western sanctions had accelerated the erosion of confidence in the US dollar and the euro.
"I have no doubt that in the future it will be extended to new groups of goods," Kremlin spokesman Dmitry Peskov said of Russia's demand for ruble payments for the gas.
Separately in the day, Dmitry Medvedev, deputy secretary of Russia's Security Council, said his country would only export food and crops to "friendly countries" in rubles or their national currency.
Kyiv: Ukrainian grain exports down sharply
Ukraine's Economy Ministry said on Sunday that the country's March grain export figures were four times lower than February's, citing Russia's military operation in Ukraine as the reason for the drop.
The ministry added that March grain shipments overseas included 1.1 million tonnes of corn, 309,000 tonnes of wheat and 118,000 tonnes of sunflower oil.
Ukraine was the world's fourth-largest grain exporter in the 2020-21 season, according to data from the International Grains Council, with most of its produce shipped via the Black Sea. But with war raging along much of the coast, traders are forced to transport more grain by rail.