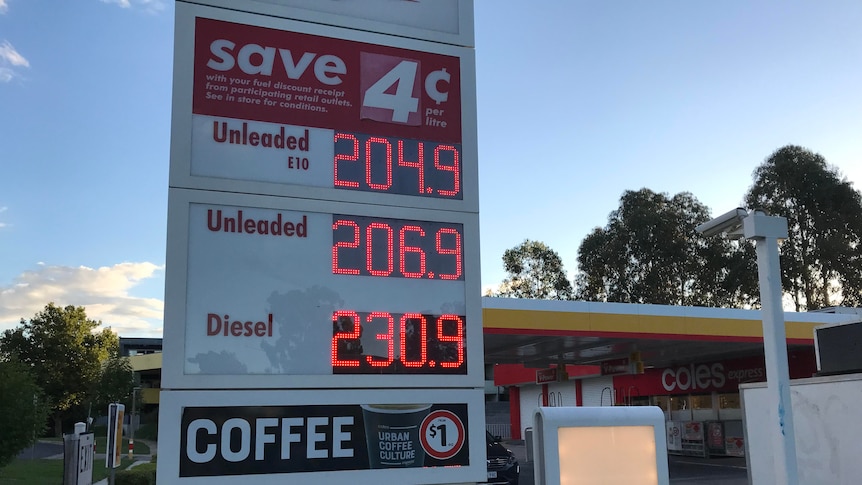 Commodity prices are soaring and inflation is rising. Should interest rates also rise?
There is more inflation to come.
The Kremlin's invasion of Ukraine and the sanctions imposed on the Russian Federation have driven up oil and energy prices.
Catastrophic flooding on the east coast of Australia has caused severe food shortages.
Supermarkets will raise prices in response.
But will this rise in prices force the Reserve Bank to raise interest rates sooner than expected, to control inflation?
There are two schools of thought.
World events dominate
The response of Western governments to Russia's invasion of Ukraine is changing rapidly.
Early last week, the European Union announced its intention to cut its imports of Russian gas by two-thirds by the end of the year.
A few days later, he unveiled his fourth package of measures to further isolate Russia and drain the resources it uses to finance its war.
Russia has warned of "catastrophic consequences" for the global market if the West bans its oil and energy exports.
Then the US said it would ban all Russian oil, gas and energy imports, and Australia and the UK announced their own oil bans.
Analysts say it's hard to keep up.
However, Reserve Bank of Australia Governor Philip Lowe said soaring commodity prices would send a new wave of inflation across the world.
"This new supply shock will prolong the period of inflation above central bank targets," he warned last week.
"This runs the risk that the psychology of low inflation that has characterized many advanced economies over the past two decades will begin to change."
So what does all of this mean for monetary policy?
Monetary policy challenges multiply
The fallout from the Russian-Ukrainian conflict will complicate monetary policy challenges for central banks.
Why?
Because sharp increases in energy and food prices will exacerbate inflationary pressures, but they will also dampen economic growth.
Dr Lowe fears that if Australians start to think inflation will continue to rise, they will start behaving in a way that ensures it happens.
So, to prevent that from happening, some economists say central banks should raise interest rates as soon as possible, to keep people's inflation expectations "anchored."
But other economists warn that raising interest rates prematurely will depress economic activity at exactly the wrong time.
Independent economist Saul Eslake says it's this contradiction that means decisions on when to tighten monetary policy, and by how much, will become much more difficult from here.
Soaring Commodity Prices, Supply Shocks and Inflation
Rabobank analysts say we are about to see the biggest supply shock since the aftermath of the Yom Kippur war in 1973.
They say the two major supply shocks of the 1970s – both involving oil – led to "stagflation" during that decade and contributed to the collapse of the financial order after World War II.
However, HSBC analysts also pointed out that global economies are much less dependent on oil today than they were before.
They say the number of barrels of crude oil needed to produce US$1,000 of GDP peaked in the 1970s, during the first oil price shock, and has since declined in the United States, Japan and the United States. world.
They say there are two main reasons for this.
"First, we've become more efficient at using the goo stuff," they told customers last week.
"Second, economies have shifted from industry to services, which consume less energy (at least of the oil type).
"This means, in general, that higher oil prices should be less of a drag on economic growth today than in the past."
They say the same is true for emerging Asia, but in India and the ASEAN region oil intensity is still considerably higher than elsewhere.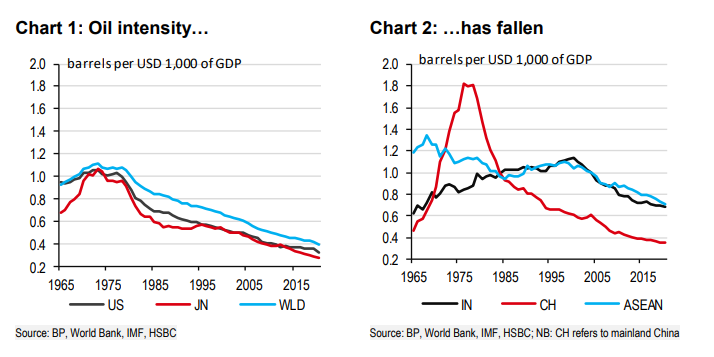 Economists say there is reason to think inflation should be easier to control at this point, compared to decades past.
They say that the major central banks are independent today, whereas they were not in the 1970s, and that they have managed inflation expectations well in recent decades.
This includes the Reserve Bank of Australia.
So even if Australians are starting to think that inflation will be higher in the short term, they still have no doubts that the RBA will struggle to control inflation in the longer term.
This is an important difference between the situation today and that of the 1970s.
If that were to change, the RBA might have to raise rates more forcefully.
But for now, the RBA may even find that higher petrol and food prices, which will contribute to higher inflation in Australia in the coming months, could perversely mean that interest rates interest will not have to increase much to keep inflation under control.
Why? As rising fuel and food prices could dampen demand for other goods, thereby sparing the RBA from having to raise rates significantly.
In any case, RBA Governor Philip Lowe says he is prepared to be patient before doing anything with interest rates.
He says headline inflation in Australia is much lower than in other major economies right now.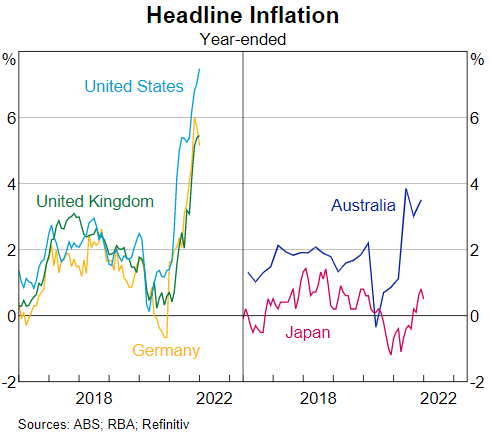 He says that in the United States, consumer inflation is at 7.5%, the fastest rate in 40 years.
Inflation rates in the UK, Germany, Canada and New Zealand are also at their highest levels in decades.
But in Australia, headline inflation is currently at 3.5%, less than half the rate in the United States. In underlying terms, it is running at just 2.6%.
However, everything depends so much on events in Europe that it is impossible to predict how events will unfold from here.
"It is plausible that the cash rate will be increased later this year," Dr Lowe said last week.
"I recognize there is a risk in waiting too long, especially in a world with overlapping supply shocks and high headline inflation.
"But there is also a risk of moving too soon.
"Recent developments in Europe have added to the complexity here. The Reserve Bank will respond as needed and do what is necessary to keep inflation low and stable in Australia," he said.